Jury Services
Jury service is one of the most important civic duties. We recognize the sacrifices made by jurors and appreciate the significant role our jurors serve in the American Justice System. Our judiciary and administrative staff are committed to make jury service as convenient and comfortable as possible.

Instructions if You Have Been Summoned for Jury Duty:
The following links contain general information, dates, and times to report for all groups summoned for the current week. Please read your Jury Summons carefully to see if you are to report to an East Kern Division Branch. If it does not specify a branch, you are to report to the Metropolitan Division.

To receive a reminder message, text your badge number to (661) 371-7207. Have your pin number ready. Please note, you are responsible for appearing on time, whether or not you receive a reminder.
Watch Jury Slideshow English
FAQ Answers
Jury parking lot is located on L street south of railroad tracks.
Jurors are NOT permitted to park in any timed areas or the parking structures.
Jurors that have a disabled parking placard or license plate may park in the blue disabled marked areas. They may also park in any timed areas.
You MAY NOT park in court, county or police marked assigned parking spots.
To avoid a ticket, make sure you park your vehicle within the lines of the parking stall.
To avoid a ticket place the parking permit on your dashboard.
To get to Jury Services from the jury parking lot head north on L street and cross at the cross walk. We are on the corner of Truxtun and L street.
There is a pedestrian overpass on N street behind the Mechanics Bank Arena that has stairs and an elevator.
There is a pedestrian underpass located at Chester Avenue but it only has stairs.
If you are not qualified to serve, would like to submit an excuse, or need to change a jury service date you may come inside and go directly up to the customer service counter.
To check in for jury duty, scan your jury barcode or enter your badge number at the Jury Self Check In stations. Verify that the information on the screen is correct and then tap YES.
If there is an issue with checking in see the staff at the customer service counter.
After checking in at the self check in kiosk, grab a plastic badge holder from the cart and place your juror badge inside the holder.
You will need to wear your badge at all times in jury services and in court
Time cards are available upon request. You are responsible for filling them out. Work Certificates are also available on our website.
While waiting we have a jury lounge, work station area, patio area and kitchen. Our kitchen has a microwave and sink. We also offer complementary water.
Lockers are located in the Juror kitchen if you need to store any personal items.
To connect your device to the free Jury Wi-Fi search for "COURTPUBLIC". No password is needed.
If you have any comments, questions, or concerns pertaining to your jury service please contact us at 661-868-4700 or wmjury@kern.courts.ca.gov
If you are running late, get stuck behind the train, or have an emergency that will prevent you from arriving on time please contact Jury Services
If you lose your badge, please contact Jury Services.
Jury Duty Locations and Schedules
If your group is not listed and you have not already reported to Jury Services, please call Jury Services at (661) 868-4700 . If you have already reported and have been excused, your service has been completed. Thank you.
If this page has not been updated by the indicated time below please call the automated jury system at (661) 868-4700 or (800) 648-8444 .
Jury Reporting Information
If your group number is not shown please check back after 6PM or call 661-868-4700 or 800-648-8444
To receive a reminder message, text your badge number to (661) 371-7207. Have your pin number ready. Please note, you are responsible for appearing on time, whether or not you receive a reminder.
To submit a Disqualification/Excuse for Jury Duty or to print proof of service date(s), please click here
Reporting for Jury Duty
Please read this entire page carefully . Search and screening is necessary to ensure proper court security. You will be asked to remove your footwear before passing through the metal detectors.
Length of Service:
The call in period for Jury Duty is one week. When you are asked to report you are required to serve a minimum of one day. Any questions reporting jurors may have regarding about their jury service may be answered during juror check in and orientation.


Weapons:
No weapons or sharp articles are allowed in the courts.
Markers like sharpies
Perfume, cologne, mace and pepper spray
Pocket knives
Knitting needles
Nail files, nail scissors and nail clippers
Handcuff keys
Business Casual is HIGHLY recommended.
The following will get you removed from court
Shorts
Backless or strapless garments, or garments with "spaghetti" or thin straps baring the shoulders, including halter tops
Bare midriffs including "crop tops" (skin should not show between the shirt/top hem and the waistband of the skirt/pant)
Tank Tops
Hats shall not be permitted unless worn for religious purposes
Glasses with darkened lenses unless prescription or worn for medical reasons
Bare feet are not permitted
Chewing gum
Food or drinks
The use of tobacco products is prohibited throughout the courthouse
When to report:
You are to either visit this Web site or call the Automated Jury System after 5:30 PM the Friday evening or weekend prior to your jury service date for reporting instructions. If you report when you are not scheduled, you will not be accepted as a juror on that date.
Requests for excuse/postponement:
Please submit all excuses or postponements by the Wednesday prior to your report date. If you have any questions, please contact the Jury Services Department at (661) 868-4700. No request for excuse or postponement will be granted on the first day of service.
Requests for excuse or postponement are to be done online or via telephone.
Parking:
For those jurors that have a disability placard and wish to serve, you can park in ANY timed area as close as you need to from the Jury Services Assembly room or the courtroom you are assigned to as long as your placard is visible. Please do not park in "Police Only" spots or County Assigned parking spots.
Park only in the juror parking areas outlined in red on the permit. All juror parking areas are located south of the railroad tracks. You may receive a parking citation if:

You park in other than designated juror parking lots.
The wheels of your vehicle are outside the painted lines of the parking space.
Any part of your vehicle is over the lines painted on the parking lot.

Allow sufficient time to locate available, all-day parking prior to reporting. Please use the pedestrian underpass at 14th and Chester or the pedestrian overpass south of Rabobank Arena to avoid the train.
Detach the parking permit located below the juror badge on the right side of the summons, place this permit on your dashboard.
Map of Jury Parking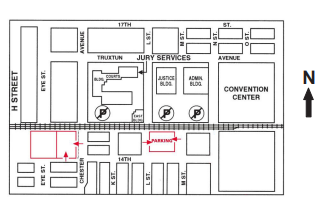 How do I request an excuse from jury duty?
You may request to be excused from jury duty by clicking on Juror's Login Page.
To view types of excuses accepted by the Jury Commissioner please click here: Types of Excuses / Disqualifications

Per California Rules of Court 2.1006, if you are breast feeding mother, you may request a postponement of jury duty. Please contact our jury staff at (661) 868-4700.