Jury Services
Jury service is one of the most important civic duties. We recognize the sacrifices made by jurors and appreciate the significant role our jurors serve in the American Justice System. Our judiciary and administrative staff are committed to make jury service as convenient and comfortable as possible. Instructions if You Have Been Summoned for Jury Duty:
The following links contain general information, dates, and times to report for all groups summoned for the current week. Please read your Jury Summons carefully to see if you are to report to an East Kern Division Branch. If it does not specify a branch, you are to report to the Metropolitan Division.
Jury Duty Locations and Schedules
If your group is not listed and you have not already reported to Jury Services, please call Jury Services at 661-868-4700 . If you have already reported and have been excused, your service has been completed. Thank you.
If this page has not been updated by the indicated time below please call the automated jury system at 661-868-4700 or 800-648-8444 .
Groups 21-40 report at 7:30am
Groups 41-50 call back at noon
To submit a Disqualification/Excuse for Jury Duty or to print proof of service date(s), please click here
Group 213 call for instruction 12:00
To submit a Disqualification/Excuse for Jury Duty or to print proof of service date(s), please click here
To submit a Disqualification/Excuse for Jury Duty or to print proof of service date(s), please click here
Reporting for Jury Duty
Please read this entire page carefully . Search and screening is necessary to ensure proper court security. You will be asked to remove your footwear before passing through the metal detectors.
Length of Service:
The call in period for Jury Duty is one week. When you are asked to report you are required to serve a minimum of one day. Any questions reporting jurors may have regarding about their jury service may be answered during juror check in and orientation.


Weapons:
No weapons or sharp articles are allowed in the courts.
Markers like sharpies
Perfume, cologne, mace and pepper spray
Pocket knives
Knitting needles
Nail files, nail scissors and nail clippers
Handcuff keys
Power cords of any kind, cell phone chargers and cameras (CELLS PHONES WITH CAMERAS ARE OK)
Clothing:
The following are not accepted:
Shirts with questionable print/pictures/artwork/designs. (You may wear plain, unaltered shirts)
Shirts/Blouses that expose abdominal area
Halter tops
Tank tops
Flip-flop sandals
Shorts
Skorts
Culottes
Gaucho pants
Low hung pants
When to report:
You are to either visit this Web site or call the Automated Jury System after 5:30 PM the Friday evening or weekend prior to your jury service date for reporting instructions. If you report when you are not scheduled, you will not be accepted as a juror on that date.
Requests for excuse/postponement:
No request for excuse or postponement will be granted on the first day of service.
When you report for jury duty and turn in your questionnaire form, you are placed in the jury pool for the entire day.
Requests for excuse or postponement are to be done by mail, fax or telephone.
Parking:
For those jurors that have a disability placard and wish to serve, you can park in ANY timed area as close as you need to from the Jury Services Assembly room or the courtroom you are assigned to as long as your placard is visible. Please do not park in "Police Only" spots or County Assigned parking spots.
Park only in the juror parking areas outlined in red on the permit. All juror parking areas are located south of the railroad tracks. You may receive a parking citation if:

You park in other than designated juror parking lots.
The wheels of your vehicle are outside the painted lines of the parking space.
Any part of your vehicle is over the lines painted on the parking lot.

Allow sufficient time to locate available, all-day parking prior to reporting. Please use the pedestrian underpass at 14th and Chester or the pedestrian overpass south of Rabobank Arena to avoid the train.
Detach the parking permit located below the juror badge on the right side of the summons, place this permit on your dashboard.
Please bring your Juror Badge and Questionnaire form completed on the right hand side (Birthdate, age, and contact numbers) and signed at the red X. Once you enter our assembly room you can use our Juror Self Check in Kiosks to scan yourself in. Place your questionnaire form into the cabinet slot at the Self Check in counter. Pick up a plastic cover to display your juror badge while you are serving and have a seat. You are now checked in. If you need any part of your summons reprinted, please see staff when you report.
Map of Jury Parking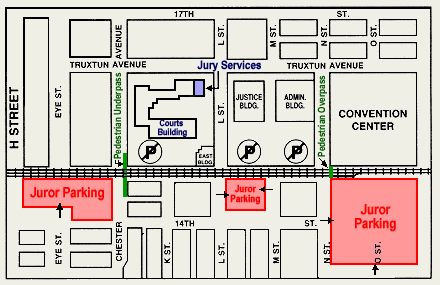 How do I request an excuse from jury duty?
You may request to be excused from jury duty by clicking on Juror's Login Page to view some of the disqualifications and excuses that can be submitted on-line. You may also return the signed and dated Questionnaire Form (with proper documentation if required) and your excuse checked via mail, fax, or in person to the Jury Services Office.
To view types of excuses accepted by the Jury Commissioner please click here: Types of Excuses / Disqualifications

Per California Rules of Court 2.1006, if you are breast feeding mother, you may request a postponement of jury duty. Please contact our jury staff at (661) 868-4700.